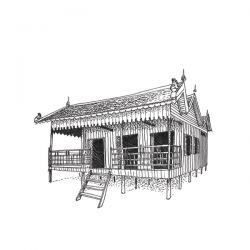 Benefits for hotel website booking:
Check in: 12.00 (noon) / Check out: 02.00 pm
Express check in
Welcome drink with cold towels on arrival
Mini bar
Complimentary poolside treat
International breakfast
High speed WIFI in the hotel
Complimentary shoe cleaning service and clothes ironing service
Nightly turndown service (romantic turn down will be offered to honeymooners)
Complimentary early check in and late check out, subject to availability
6 – Bram mouy / The fishmongers' house
Suite Lodge – One bedroom
Historic:
House No. 6, "Bram mouy" in Cambodian, is amongst the oldest in Sala Lodges. Built in 1958, it was discovered in the village of Or, in the Sang Voeuy commune. This village in the province of Siem Reap is situated some 60 kilometres from the town.
Its owner, Mao Heng, is a retired fishmonger. He gave his business to his son. Like many others, the 70-year-old said he would sell his house so as to be able to build a larger and "prettier" home. Bram mouy arrived on the Sala Lodges site at the end of August 2012.
Description:
This lodge can accommodate up to three adults and a child below 12 years old in one double bed and one single bed or in three single beds and an extra bed*. The bedroom of more than 36 m2 opens out on to large trees. The large bathroom is equipped with a rain shower. The terrace looks out to the south-east, allowing guests to make the most of the superb Cambodian sunsets.
Decorated in turquoise hues, this house is slightly smaller than the rest and is loved as much as the others by the architect.
There is a no smoking policy in all houses.
Beds:
Two single beds of 107 cm x 200 cm which convert into a double bed
A sofa bed 90 cm x 200 cm
An extra bed of 90 cm x 200 cm
Amenities:
Air conditioning & fans
Mosquito nets
Free Wi-Fi access & telephone
Minibar
Safety deposit box
Shoe polishing
Laundry service
On request (no price supplement):