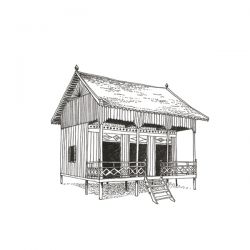 Benefits for hotel website booking:
Check in: 12.00 (noon) / Check out: 02.00 pm
Express check in
Welcome drink with cold towels on arrival
Mini bar
Complimentary poolside treat
International breakfast
High speed WIFI in the hotel
Complimentary shoe cleaning service and clothes ironing service
Nightly turndown service (romantic turn down will be offered to honeymooners)
Complimentary early check in and late check out, subject to availability
12 – Dop pi / The hobby horse
Suite Lodge – One bedroom
Historic:
House No. 12, "Dop pi" in Cambodian, has a distinctive feature in that it has just one roof with two sides. Given this, it is impressive both externally and internally. "Dop pi" takes its name from the two handrails which end with a horse's head carved out of wood. Sala Lodges welcomed this house in 2012.
This house was located in Kompong Chèn, in the commune of Kompong Chèn Tbon. This village which means "port of the southern Chinese", is situated in the province of Kompong Thom, 80 kilometres from Siem Reap. This construction dates from 1956 and belonged to Madame Ro Hong, a 70-year-old lady who came from a wealthy family of Chinese traders who made their fortune in groceries.
Description:
Situated at the edge of the land, not far from the restaurant, this house contains a multitude of borders and carvings, all equally surprising. Three splendid doors with four panels open on to a vast terrace of 16 m2. The large 10 m2 bathroom comes complete with a rain shower.
The hobby horse can accommodate three adults and a child below 12 years old, two in a large double bed, in a sofa bed and an extra bed*. The bedroom in shades of whites and reds measures 38.5 m2 and has been decorated with patinated furniture from India, a country which has had a strong influence on Khmer culture. At the time of its construction in the XIIth century, the famous temple Angkor Wat was initially consecrated to the Hindu god Vishnu before being dedicated to Buddhism towards the XVIth century. The Khmer language contains many words with their origin in Sanskrit.
There is a no smoking policy in all houses.
Beds:
A double bed of 180 cm x 200 cm
A sofa bed of 90 cm x 200 cm
*An extra bed of 90 cm x 200 cm
Amenities:
Air conditioning & fans
Mosquito nets
Free Wi-Fi access & telephone
Minibar
Safety deposit box
Shoe polishing
Laundry service
On request (no price supplement):